Examinations / Fleadhanna
Students are always encouraged to enjoy their music. The more proficient the student is on his/her instrument, the greater the enjoyment!
All students are therefore encouraged to undertake one examination throughout the year.
SCT (Scrúdu Ceol Tíre) Comhaltas Ceoltóirí Éireann examinations.
The SCT examination system comprises 12 grades
Elementary Cycles 1 – 3
Grades 1 – 8
Certificate: Advanced Performance Certificate
London College of Music Examinations.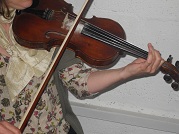 The examinations are graded as follows:
– Grades 2-8
– DipLCM, ALCM, LLCM & FLCM in Irish Traditional Music Performance
Marks achieved in grades 6 & 8 are accepted by UCAS towards university entrance.
Fleadhanna
Many Ceol na Coille students also take part in the annual Fleadhanna Cheoil, organized by Comhaltas Ceoltóirí Éireann, at County, Provincial and some at All-Ireland level, and we are very proud of our students' successes at all levels.
For further details contact Paul at:
Telephone: 00353 (0)87 6774601
E-mail: ceolnacoille.letterkenny@gmail.com