Jarlath Henderson
Joining us this year on Uilleann Pipes is award winning multi-instrumentalist Jarlath Henderson. Born in  Armagh, Jarlath is a highly sought after performing and recording artist having recorded with such leading Traditional and Folk musicians as Ross Ainslie, Peatbog Faeries, Wolfstone, Luke Daniels, Maggie Reilly and Duncan Chisholm. Jarlath has also performed with Mike McGolderick, Lau, Capercaillie, Paddy Keenan, Salsa Celtica.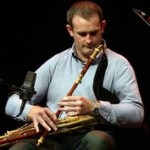 Padraig McGovern
Delighted to welcome back Padraig this year again. Padraig hails from Ballymagovern, a townland in the Cavan-Leitrim border area. His music reflects this placement with influences of both counties evident. Padraig was taught by master piper P.J. Flood from Belturbet, Co. Cavan and heavily influenced by the Button accordionist Vincent Tighe. In conjunction with this, he developed his music as a member of the Ceolas Céili Band under the tutorship of Fr. John Quinn (P.P. Gortletteragh) and session playing with many renowned Leitrim musicians at festivals all over the county.
Padraig is a noted researcher, teacher and performer. He released a highly acclaimed album with Peter Carberry in 2013 called 'Forgotten Gems' the title referring to many of the forgotten tunes revived and recorded from the Leitrim, Longford and midlands area. He is a widely respected teacher having taught for many years at the 'Joe Mooney Summerschool', 'Scoil Éigse', and more recently 'The William Kennedy Piping Festival' in Armagh. He has toured extensively with CCÉ and performed with many household names such as Téada, Dervish, Lúnasa, Peter Carberry, Dave Sheridan and many others.