Yvonne Casey
One of Co. Clare's most distinctive fiddle players, Yvonne grew up surrounded by the richness of Clare music and plays in a unique soulful style. In the 1990's Yvonne recorded two albums with The Ceili Bandits and they toured Europe and the USA. Her first solo CD was released in 2004. Since then, she has created her own music school in Clare and teaches and performs at various festivals at home and abroad. Yvonne's recently released CD entitled "Croí" (Heart), includes her own new compositions and performances by Dermot Byrne, Eoin O' Neill and Jon O' Connell. Yvonne has also shared the stage with many great musicians such as Steve Cooney, Frankie Gavin, Martin Hayes, Paddy Keenan, Josephine Marsh, Máirtin O' Connor, Kevin Crawford and luka Bloom to mention a few.
Clodagh Warnock
Clodagh is originally from Maghera in South Derry where at the age of 7 she began fiddle lessons with her Aunt- Ann O'Brien, and then later with Dennis Sweeney.
She is a founder member of the highly acclaimed band Deanta, playing fiddle, bouzouki
and bodhran. Deanta were subsequently signed to the American Record Company- Green Linnet and produced 3 albums- "Deanta"- 1990."Ready for the Storm"- 1994. "Whisper of a Secret"- 1997.
Clodagh has toured extensively and has performed and taught workshops at major festivals throughout the world. As her family moved to live in the Inishowen Peninsula 25 years ago, Clodagh also returned to live here after College and became actively involved in traditional music in the area. She is a current member of the Inishowen Traditional Music project- a voluntary body set up to promote and preserve the music of the area. Clodagh is a co-founder of the Ceolan School of Music in Moville which is now in its 6th year. She holds the T.T.C.T diploma in teaching traditional music from Comhaltas Ceoltoiri Eireann and has recently given up a career in Dentistry to teach music full time.
Roisin McGrory
Roisin Mc Grory (nee Harrigan) is from Inishowen Co.Donegal. Growing up in Burnfoot, she was exposed to the rich culture and music of Inishowen and Donegal. With her brothers Paul Harrigan (piano accordion and uilleann pipes) and Damien Harrigan (fiddle) Roisin has performed and taught at festivals and events throughout Ireland, Europe and America.
Roisin teaches traditional music in Inishowen and Derry and is a co-funder of the Inishowen Traditional Music Project(ITMP) established in 1999. Influenced by the work of Cairdeas na bhFidiléirí, in Donegal, ITMP was set up to promote and preserve the music of Inishowen. The project holds annual events such as workshops, concerts, collaborations, exchange visits, recitals, talks and has produced two commercial recordings of Inishowen musicians Seamus Grant and Dinny Mc Laughlin.
In September 2016 Roisin released her debut album, 'The Brae Road' a collection of music with strong Inishowen and Donegal influences. Along with some new compositions the album is a collection of music drawn from musicians that have influenced Roisin's playing over the years. The album features musicians Colm O'Caoimh(guitar), Paul Harrigan(accordion & viola), Melanie Houton(fiddle), Eimear Mc Colgan(fiddle), Clodagh Warnock(fiddle) and Joleen Mc Laughlin(harp) and her two daughters Deirdre McGrory(whistle) and Ella Mc Grory(piano).
Roisin has recently appeared at the Imbolc Festival in Derry and at Scoil Gheimhridh Ghaoth Dobhair where she also acted as a tutor.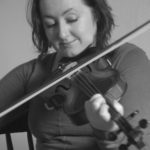 Tara Connaghan
Tara is a highly regarded fiddle player from Glenties, Co. Donegal in the north west of Ireland and has been playing in the traditional music scene for over 20 years. Along with fellow Donegal fiddler, Derek McGinley, she released a well-received recording in 2011, The Far Side of the Glen, focusing solely on the fiddle style and repertoire of south west Donegal, grant aided by the Arts Council.
Tara received a Degree in Music at University College Cork (UCC) and a Masters in Irish Traditional Music Performance at the University of Limerick (UL). She also completed a Postgraduate Diploma in Arts Administration in the National University of Ireland Galway (NUIG), a 3 year course with Na Píobairí Uilleann in learning to make the uilleann pipes and a one year certificate course on Mental Health and the Community (UCC).
She tours and plays regularly as a freelance musician and has featured on various TV, radio, internet and CD recordings.  Recent performances include playing with the Irish Memory Orchestra alongside Martin Hayes and Martín O'Connor, a number of solo performances and last year's Earagail Arts Festival concert showcasing 13 of Donegal's finest female fiddlers including Mairéad Ní Mhaonaigh, Liz Doherty, Bríd Harper, Roisin Harrigan and Clare Friel.
Tara returned home to Donegal in 2014 to work in the family business following the death of her father where she continues to play and work on creative projects. She was a board member at the Irish Traditional Music Archive from 2013 – 2017 and worked in arts management for over 10 years including as an Arts Council advisor. Tara is the recipient of a Music Network Music Capital Scheme Award in 2015 for a Noel Burke violin bow.