Hamish Napier – Piano
Delighted to welcome Hamish Napier as one of our tutors this year. Born and raised in the Scottish Highlands, he studied in universities in Glasgow and also Berklee College of Music. Hamish now teaches at Royal Conservatoire of Scotland. Hamish is also a fantastic Flute player and singer and has toured and recorded with some of Scotland's leading musicians including, Donald Shaw and Karen Matheson of Capercaille, Martyn Bennett, Duncan Chisholm and Eddie Reader and also performs regularly with Uilleann Piper and Singer Jarlath Henderson.
Innes Watson – Guitar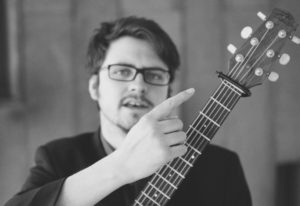 Growing up in the Scottish Borders offered Innes an incredibly diverse musical upbringing, helping him to develop an eclectic and refined mix of skills, abilities and interests that make him one of the most highly-regarded and sought-after musicians on the scene today.
He is also much in demand as a teacher with both the Royal Conservatoire of Scotland, with whom he also graduated with a BA in Scottish Music, and various music schools and organisations across the country.
Innes has been heavily involved in some of the most successful albums in Scottish Music over the last fifteen years, appearing on at least 24 different albums. This is one of the reasons leading to MG Alba Scots Trad Music Awards awarding him the title of "Instrumentalist of the Year" in 2011.
A composer of fiddle tunes, string arrangements, guitar music, songs and much more he is currently working on a whole host of exciting new projects including his "Guitar Colloquium" due to be released in the future.