Paul Harrigan – BMus Hons Music, T.T.C.T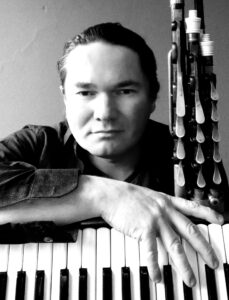 A multi-instrumentalist, Paul is from the Inishowen Peninsula, Co. Donegal. Born into a musical family, he was influenced at an early age by his teachers Dinny McLaughlin, Evelyn Boyce, and Theresa McClure. He has the distinction of being All-Ireland champion on both the Uilleann Pipes and Piano Accordion.
A respected and versatile musician, Paul has travelled extensively, performing in Canada and the USA, and through-out Europe and China. He has toured and recorded with groups such as Lúnasa, Tuath, (Ireland), Dirty Linen, (France) and BlØf (Holland), and with virtuoso solo performers and composers Mícheál Ó Súilleabháin, Roisin McGrory – (Ireland), Benoit Guerbigny, Renaud Séchan and Jean-marc Padovani (France), Ralph Rolls and Selan Lerner from Niall Rodgers band Chic. With friend and colleague Terry Woods, Paul has been a member of the Woods Band and original member of The Hell Fire Club with Shane McGowan, Terry Woods and Phil Chevron – (The Pogues), and the legendary Ronnie Drew and Eamonn Campbell – (The Dubliners).
Performing with such a wide variety of musicians has enabled Paul to fuse Irish traditional music with such musical genre as Jazz, Rock, Blues as well as composing and arranging music in collaborations with spoken word, art installations and documentaries. In July of '09, together with Terry Woods and actor Adrian Dunbar, he performed and appeared in a documentary by Brian Ó Flaghartaigh on the life of James Connolly. In March 2009, Paul travelled to Beijing with contemporary Irish composers, Brian Bridges, Linda Buckley, and Hugh O Neil, to perform a series of concerts and lectures featuring Paul on the Uilleann Pipes. Paul was invited to perform a solo 25 minute Uilleann Pipe piece composed by Dr Caoimhin MacAoidh, entitled 'Cómoradh Éamonn Ceannt' as part of the 2016 celebration of the Easter Rising leader, in honor of Ceannt's dedication and promotion of the Uilleann Piping tradition.
Paul returned to college in 2008 and graduated from the University of Ulster with Bmus Hons in 2011. Paul has been an invited guest tutor at the University of Limerick, providing master classes on both Uilleann Pipes and Piano Accordion for the MA in Performance and the BA in Traditional Music and Dance. He set up his own traditional music school 'Ceol na Coille' in 2011. Ceol na Coille opened its doors to musicians of all ages and provides tuition on a wide variety of instruments. From 2004, Paul has also worked closely with local national and secondary schools as a part time tutor and also creating and delivering programs through the Music Education Partnership, Donegal VEC (ETB) and Peace III. From dealing with a large number of young musicians in a variety of musical genre, he felt the need for creating a musical platform for young musicians of different musical backgrounds to come together and perform in a variety of settings, formal and informal, at home and abroad. With this in mind, Paul decided to form the project 'Coirm' and Uilleann Pipe ensemble 'Cronán'. The groups perform traditional arrangements and compositions by Paul and Coirm have also commissioned and performed pieces by Seamus McGuire, Mairead Ní Mhaonaigh, Martin Tourish, Zoe Conway and Catriona Ní Ghribín.
In 2012 Paul set up the first Ceol na Coille Summer School of Irish Traditional Music. Ceol na Coille's aims are to deliver high quality level of master classes and tuition in traditional music, song and the Irish language, inviting nationally recognized and local musicians to deliver the master classes. The Summer School to date has welcomed students of all ages from USA, Canada, Belgium, Holland, Germany, Austria, New Zealand, Austrailia, England, Scotland, Japan, Hungary and throughout Ireland. The summer school has proved hugely successful and welcomed record numbers of participants to the workshops. We would like to thank the Arts Council of Ireland for their support in 2023.
Paul has released an album of Uilleann Pipe music following a grant awarded from the Arts Council of Ireland – Deis Recording and Publication Award. The album entitled – Music from the White Stone – consists of music researched from the manuscripts of the collector Honoria Galwey, Moville 1910, from the Donegal fiddle repertoire and new compositions of his own.
He was recently completed a commission from Cairdeas na bhFidléirí to compose a soundscape for the 'Seven Waves Project' in Orkney. The final work was to function as a live soundscape performance element, designed to compliment and enrich "Seven Waves," an art installation by Erlend Brown and Dave Jackson based on "Tryst on Egilsay" a seven part poem cycle by George Mackay Brown. The Seven Waves CD is available to order from the website and was launched during Trad Week in Letterkenny's Regional Cultural Centre on Thursday 2nd June 2021.
In 2022 Paul collaborated and performed in a project with the Brodsky String Quartet which can be viewed here https://inishowenmusic.ie/feile-na-hinse-2023
and more recently performed in the National Concert Hall, Dublin, as part of the Inishowen Trad Orchestra and Choir, in January 2023 a promo of which can be seen here,
Paul still performs throughout Ireland and abroad and is highly sought after as a tutor for master classes, performance and studio work. Paul's musicianship reflects his musical apprenticeship, a deeply rooted education in the style, tradition and flair of the Irish music of his native Inishowen. His command of the music enables him to show his virtuosity with versatility.