Covid 19 Update
We are delighted to bring a series of lunchtime recitals to mark the music week this year thanks to the support of the Regional Cultural Centre, Letterkenny, Co. Donegal. Details of recitals will be published soon. Due to the ongoing pandemic and uncertainty, there will be no face to face or online classes this year.
Summer School 2021 Lunchtime Recitals
We are delighted to mark this years summer school week with a series of lunchtime recitals. We are extremely grateful to the Regional Cultural Centre in Letterkenny in helping make this happen. We would like to thank Neil McGrory for all his help again in editing video footage for the recital series.
Lunchtime Recitals
in association with the Regional Cultural Centre, Letterkenny.
Monday 12th July 2pm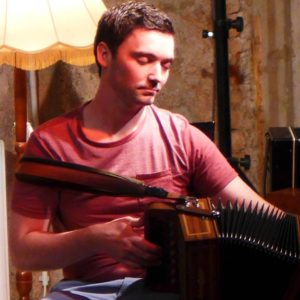 Conor Moriarty – Button Accordion with Sean Kelliher – Guitar
Conor is an all Ireland Champion accordion and melodeon player steeped in the musical traditions of his native Sliabh Luachra homestead. Conor began his musical journey at the tender age of 7 learning from many of the great local musicians such as John Brosnan and Jimmy Doyle just to mention a few. In 2009, he became all Ireland 10 key melodeon champion and the following year he was crowned with the much coveted all Ireland senior accordion title. In the same year he completed his masters in Traditional Irish Music Performance in University of Limerick under the guidance of one of his biggest influences, Derek Hickey. Conor's debut solo recording 'All in a day's play' was released in 2012 to great critical acclaim. He has toured extensively at home and all over the world including America, Australia, China and Europe.
Link to Video Recital https://www.facebook.com/ceolnacoille/videos/172546954796648/
Tuesday 13th July 2pm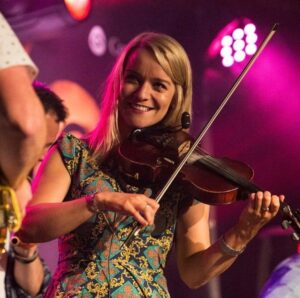 Tara Breen, is a highly talented multi-instrumentalist from Co. Clare. She has achieved All-Ireland titles on fiddle in every age category over the years, culminating with the All-Ireland Senior Fiddle Title in 2012. Tara is also an All-Ireland winner on the flute and saxophone. In 2006 Tara won the coveted 'Fiddler of Dooney' competition, and in 2009 she added the prestigious 'Michael Coleman Fiddle Competition' to her list of accolades. In 2011 Tara won the senior Oireachtas fiddle title, and also in 2011, Tara was chosen to play at Dublin Castle for the Queen of England during her State visit to Ireland.
She was selected by Donal Lunny for the T.V. series, 'Lorg Lunny', which culminated in the band Ciorras, and from there went on to join the Galician piper Carlos Núñez, with whom she continues to play on a regular basis throughout Europe. In 2014 Tara joined The Chieftains for their North American tour, and currently plays with them at various venues both at home and abroad. Tara joined the legendary band, Stocktons Wing in 2015. Tara is a founding member of the band Rianta, formerly known as The Trí Tones, who are currently working on launching their second album.
She achieved her Dip. ABRSM in 2007 in classical flute, and also qualified as a Traditional Irish Music teacher with Comhaltas Ceoltóirí Éireann, achieving her TTCT in 2011. She attended the National University of Ireland, Cork, graduating in 2011 with a BA(Hons) in Music and Arts, and in 2012 graduated with a B Mus. Degree.
Link to video Recital https://www.facebook.com/ceolnacoille/videos/332938148304695/
Wednesday 14th July 2pm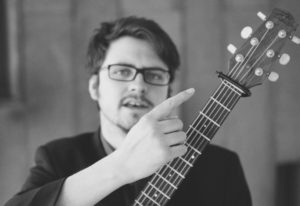 Innes Watson – Guitar/ Fiddle
Innes Watson, from Glasgow, is an award-winning multi-instrumentalist with over 21 years of contemporary and traditional Scottish music performance, recording, teaching and producing experience cumulatively. He grew up in the Scottish Borders in very supportive musical surroundings encouraging an extremely eclectic mix of skills, abilities, interests and accolades that combine to make Innes one of the most highly-regarded and sought-after musicians on the folk scene today.
He has taught at the Royal Conservatoire of Scotland (having graduated from there with a Bachelor of Arts degree in Scottish Music in 2006) and is a firm favourite for adult and youth learning organisations up and down the country. He has appeared on at least 42 albums released in Scotland in the last 16 years and has worked with some of the most notable performers in the country. In 2011 he won the title of "Instrumentalist of the Year" at the MG Alba Scots Trad Music Awards and has featured heavily therein with bands and as accompanist to dozens of performers.
A composer of fiddle tunes, string arrangements, guitar music, songs and much more Innes now has a lockdown inspired passion for solo performing, live streaming and home recording including use of electronic music and sampling. Always keen to explore new avenues and put his professionalism to work in more new and interesting projects. Link to Video Recital https://www.facebook.com/events/858925975035150/?ref=newsfeed
Thursday 15th July 2pm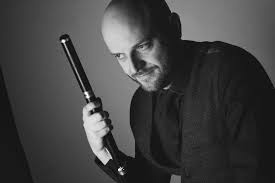 Hamish Napier
Hamish Napier is a Scottish folk multi-instrumentalist, educator and composer inspired by the heritage and nature of his native landscape. He was born and brought up in Strathspey. For 17 years he lived and worked in Glasgow and Boston's vibrant, multi-genre music scenes. On returning home 4 years ago, he began his 'Strathspey Pentalogy', an ambitious 10-year project to produce 5 landscape inspired albums. The River ('16) and The Railway ('18) received 5-stars in national newspapers. The Woods ('20) was awarded 'Album of the Year' in the Scots Trad Music Awards – he has previous nominations for Community Composer, Live Act and Tutor of the Year.

Hamish has collaborated with leading artists such as Eddi Reader, Karen Matheson (Capercaillie), Julie Fowlis (Brave), Duncan Chisholm (Wolfstone), Blue Rose Code and Martyn Bennett. He has worked on national TV/radio as both performer and presenter, and appeared at festivals, theatres, music camps and universities throughout the UK, Europe and America.

Hamish's work often includes elements of Gaelic & Scots language and is modelled on traditional reels and jigs. He strives for a balance between tradition and innovation, celebrating and respecting Scotland's rich musical heritage while transcending boundaries, with jazz, electronic and classical techniques. Hamish combines wooden flutes, fiddles and pipes, with a modern rhythm section and pioneering music production.

His work is often interdisciplinary: syncing my music to landscape films or incorporating poems and stories. Hamish produced a film 'Strathspey Stories' that premiered at the Scottish International Storytelling Festival and is currently gathering and recording local stories for Badenoch Heritage & Cairngorms National Park.

"There's stunning craft to Hamish's music-making. The sleeve-notes for The Woods are little Nan-Shepherd-esque prose-poems in their own right."
Robert MacFarlane 'The Lost Words'
★★★★★ "The Woods is a beautifully constructed, evocative and distinctive album…a splendid and rare treat."  SONGLiNES Magazine
★★★★★ "Scintillating…brilliantly vivid"  
The Scotsman
★★★★★ "Napier has the composer's gift of painting a picture with sound, more evocative that an artist. Superb." FATEA Magazine
"A vivid exploration of woodland, and its connection to the past and present. Meticulous research and authenticity drives it…a work of passion and commitment."
Cameron McNeish, Scots Magazine
Friday 16th July 2pm
Jarlath Henderson  with Innes Watson
Jarlath Henderson is a singer, multi-instrumentalist, composer and producer from Armagh, who was the BBC Young Folk Award recipient in 2003. Renowned primarily for his extraordinary prowess on uilleann pipes and whistles, he is fast emerging as an equally gifted vocalist. Having established an international profile for his firebrand partnership with Scottish piper and whistle player Ross Ainslie, and after rapturous album reviews, Jarlath released his own debut solo album, 'Hearts Broken, Heads Turned' in 2016; an assemblage of traditional folk songs from across the UK and Ireland.
Our dates for 2022 are 11th-15th July. 2021 will be our 11th anniversary year and with an even bigger 'Jammed Packed' program of events, we hope to welcome you all again.
Take Care and Stay Safe