Whistle

Micheal Carey
Originally from Buncrana, County Donegal, Micheal now lives in Letterkenny. Has lived and worked for many years throughout Ireland. Michael has played his music all around the world with Derry group Aileach and Fir Uladh while in his youth finding time to win a number of All-Ireland Championships for Tin Whistle. Michael adjudicates major competitions and presents Master Classes throughout the country. His whistle style subtly incorporates musical nuances from other instruments such as banjo, fiddle and accordion. After winning successive All-Ireland Slógadh competitions, Michael featured on the Gael Linn Bualadh Bos album along with many other notable artists at the age of 14, and has appeared on the television programmes, Bring Down The Lamp, Come West Along the Road and The Pure Drop. In 2013 Michael featured on the TG4 An Samhradh Linn television programme. Finally, Michael was a founder member of two recent bands, Dalltach (trad and modern) and Kintra (Rock) and toured extensively throughout the whole of Ireland and France.
Kate Forde
Kate has been involved in traditional music and singing for over 40 years.  She has won various All Ireland titles throughout the years in singing and tin whistle.  She has toured Ireland, England and the USA with CCE.  Kate was also involved in the promotion of traditional music throughout Donegal during the summer season and was involved in Seisiún.  She also represented Ulster at All Ireland Scór competitions.  Kate has taught music extensively all over Donegal and has been successful in producing All Ireland Champions down through the years.  She really enjoys encouraging children to participate in playing and singing of music in every way possible.
Flute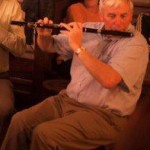 John Lee
Originally from Aughavas Co Leitrim and now living in Letterkenny, Co. Donegal .John grew up in an area that was rich in traditional music where his great influences were his father Peter, Michael McNamara and the flute player John Blessing .John has been involved in teaching music and as an adjudicator and music examiner for the RIAM and TTCT exams for many years. He has taught at the summer school in Tocane France and at various flute work shops throughout the country. He has also performed at various music festivals in Europe and toured  America with Comhaltas. The album The Missing Reel with Sligo fiddle player Seamus Mcguire has been hailed as one of the all time classics of fiddle flute playing .John has a great interest in old musical collections and manuscripts and in passing these tunes on to musicians. He holds a TTCT diploma and his playing could be described as an attacking driving style with great emphasis on ornamentation and power and tone.