Free Family Events @ Ceol na Coille Summer School '02
Ceol Na Coille Summer School & Trad Camp 11-15 July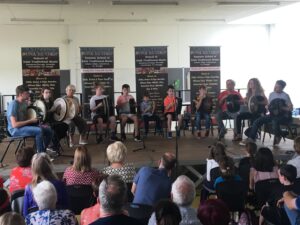 We are delighted to offer free public events at Ceol Na Coille Summer School & Trad Camp. The ethos of the summer school has always been family centered and inclusive.
Some events that are free and open to the public are our evening recitals 3-4pm Monday 11th – Thursday 14th July in Coláiste Ailigh. These recitals will feature tutors at Ceol Na Coille Summer School. Thanks to Donegal County Council Local Live Performance Programming Scheme and @DepartmentofCultureIRL for helping making this happen with funding support.
Conversation Circle every day 1.45pm followed by our tutor recitals with Líonra Leitir Ceannainn.
Come Try the Pipes Interested in learning the Uilleann Pipes, come and try on Wednesday 1-2pm.
Ceol Na Coille Festival Club Junior Session, in association with the Regional Cultural Centre 6.30-8pm Tuesday 12th – Thursday 14th.
For more info www.ceolnacoille.ie/summerschool
Thanks as always to the support have from the Regional Cultural Centre, Letterkenny  @DepartmentofCultureIRL Seamus Mac Giolla Bhríde CCE Líonra Leitir Ceanainn @donegaltourism Na Píobairí Uilleann #LocalLive