One of Donegal's best-known music weeks, Ceol na Coille Summer School & Trad Camp, has made a successful return after the Covid lockdowns, with students from as far away as Japan, the US and Italy attending the recent series of music classes, workshops and concerts in Letterkenny.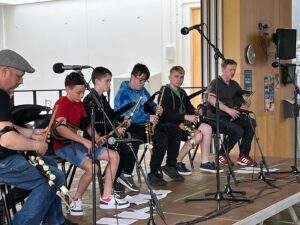 Organiser Paul Harrigan said: "It was great to have the Summer School back in full swing this year with face-to-face classes after the two years of restrictions. We were able to welcome back wonderful tutors from not just Donegal but around the country. And students of all ages enrolled from near and far, with some flying to Ireland specially to take part in the 10th Anniversary summer school"
"There was a great buzz around Coláiste Ailigh, which was our base for classes during the week. We also had recitals, family sessions and wonderful concerts, as well as the usual sessions in pubs around the town." Another addition to this years activities was the Braon Beag Gailge – 'A wee drop of Irish' conversation circle hosted each afternoon in Coláiste Ailgh by Líonra Leitir Ceanainn.
Tutors this year included some of Donegal's best-known musicians, such as Dermot Byrne on button accordion, Roisin McGrory on fiddle, John Lee on flute and Martin Crossin on uilleann pipes. Visiting tutors included fiddler Yvonne Casey from Clare, traditional singer Deirdre Scanlon from Tipperary, and banjo player Oisin Murphy from Emyvale in Monaghan. "The afternoon tutor recitals were a great treat again this year and we would like to thank the Donegal County Council, Donegal Tourism and the Dept of Culture for helping make this happen with LLPPSS funding support."
One of traditional music's renowned guitarists Steve Cooney was guest tutor for a fantastic one day masterclass.
In addition, the 10th anniversary concert featured Steve, who was on stage with Dermot Byrne, Yvonne Casey and Deirdre Scanlan in the Regional Cultural Centre. The RCC was also host to the very successful festival club family session which ran throughout the week.
"During the restrictions of the pandemic we marked the summer school week with especially recorded online performances and tutorials in association with the RCC. So this year being our 10th anniversary we were excited to celebrate our association over the years with this fantastic concert in the RCC "
Weekly traditional music lessons resume at the Ceol na Coille School of Traditional Music in Letterkenny in September.
@govisitdonegal @RegionalCulturalCentre @DepartmentofCultureIRL